Visual Cues for Special Needs Scouting
When a child has a learning challenge, scouts can become a safe haven for them. The struggles of school can take a back seat while a child learns to light camp fires and takes long hikes. As scout leaders, it is important that we not let the challenges of school become challenges to scouting, if at all possible.  What to do?
One option is to use info graphics, and visual aids,  instead of just words when listing what scouts need to bring while hiking or camping. This makes it easier for scouts with dyslexia, and those who process information visually better. Many kids can have learning challenges that make listening to directions and following them harder. When you give them a list to read, or a set of pictures to match, it makes better connections in their brain.
Here are some examples.
The 10 Essentials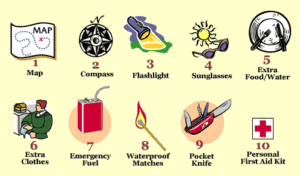 or
What to bring on a campout, group gear, or other ways you may wan to discuss camping trip gear needed.
You may also want to create a check list to be a visual aid, for your patrol boxes so that scouts can check that everything is put away at the end of a meal. Try creating it with icons and pictures so that your scouts with learning challenges won't struggled to read words or miss an item in the kit because they can't decode it.
Credit: Most of these are REI camping checklist images