Leaf Rubbing: Otter Ideas
Recently, I saw a neat way to do leaf rubbings with kids to make art, and though it would be great for our otters!
First, you gather leaves of various shapes. If possible, you can ask scouts to learn what kind of tree or bush their leaves come from. However, that isn't technically necessary. I find that casually mentioning, "Oh, I like that oak leaf!" Is often encouragement to my kids to learn a few leaf shapes as we go.
To Make the Craft
Press a leaf between two pieces of paper and use the side of a crayon to create a rubbing. The rubbing should show the veins and edges of the leaf. Using a variety of leaves can help kids see the different ways the veins form and patterns they make.   But what I liked about this project, was that there was a step two.  Once the rubbings are done in crayon, give the child some water colors  and let them paint in the leaves!  The wax crayon should show right through the paint.   Last, cut out these leaves, and turn them into a fall garland to hang up!
As we wonder what we can do at home this fall, I think this project could be fun for families. Scouts can create a garland for their home,  and then take pictures or a short video to share with their group! Share directions with your families, or make a video of yourself as you do this project to show your scouts.  You could also have scouts make this while on a zoom call, if th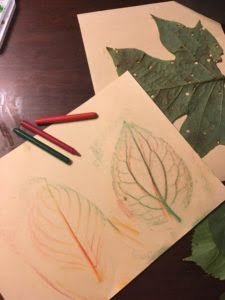 ey have the supplies on hand.
Supplies:
Paper
Leaves
Watercolor paint
Crayons
Scissors
Yarn and needle for creating garland
By creating a garland to go in their own homes, scouts have a chance to see and think about their otter friends between meetings. It also goes well with the Green Paw, if your scouts are working on that this year.