Paracord Bracelets: Kit It Up
With scouts still doing many meetings over zoom, what new ideas have you come up with?
The 17th BlackBear pathfinders asked to make paracord bracelets. And as a scout led organization, the adults worked to help make that happen. Scout leader Richard Sowdon, created kits with buckles, and pre-fused paracord and mailed them to his pathfinders.  Cord colors were in the same color as the group neckers, black and gold.  The patrol leaders chose to teach the cobra pattern, as it is the most basic to learn.  The zoom meeting involved watching videos and having both scouts and leaders take turns explaining to the rest of the group step by step how to make the bracelets. From how to attach the buckles to the cord, to how to weave the pattern, to how to finish, each step was slowly explained.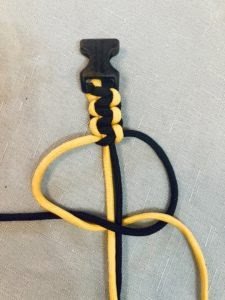 If you are looking for an idea for your pathfinders, we think you should give it a try!
You can find directions here: (you really don't need the fancy loom) https://www.instructables.com/Basic-Paracord-Cobra-Bracelet/
And you can even watch a video, this one is nice and slow: https://www.youtube.com/watch?v=pg5AxDppslc
The BlackBears are now planning to experiment with making other paracord items including key chains and zipper pulls.
Has your group made anything from paracord? Tell us about it in the comments!