Welcome to the South, where summer is hot, food is fried, and BPSA is growing!  Baden-Powell Service Association has scout groups throughout the south, and you can visit our Find a Group page to learn what scout group is near you!
Do you want to start a South Region Group?

The person to talk is our South Regional Commissioner, Laura Sowdon. She joined BPSA in 2012, when she and her husband, Richard, founded the 17th Black Bears in Virginia. Laura can talk to you about the ins and outs of scouting with BPSA and answer your questions.
Laura is an occupational therapist and passionate about making scouting assessable to scouts of all skill and ability levels. Laura's favorite part of scouting is community service. She likes to find creative ways for her scouts to be hands-on and involved in ways that help their community. You can contact her at commissionersouth@bpsa-us.org.
Once you decide you want to join BPSA, your next step is to attend a BTC.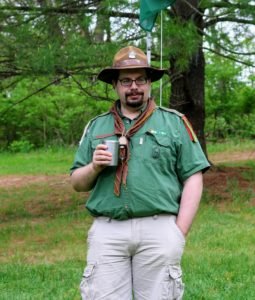 BTC stands for Brownsea Training Camp. BTC is a training weekend for adults interested in leading with BPSA. You will spend the weekend camping and learning the skills of scout leadership and experiencing all levels of the program from the perspective of a scout with our South Region Training Commissioner, Richard Sowdon.
Richard is a life long scout. Inside of BPSA, as a certified trainer, he has attended BTC's across the country and run several for the South Region. He is also a trainer for the Bronze Arrow youth leadership development program. As a scout leader, he has been a leader for every age level, as his own children have grown up. His favorite age level is Pathfinders, but he has a soft spot for otters.
If your group wants to host a training, contact Laura and she and Richard will talk to you about how to get that set up!
Have an idea of what else we should have on our website?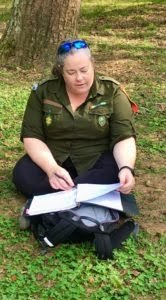 Our South Region is also lucky enough to have an excellent webmaster and all-around amazing Rover, Melanie Willett. Melanie is the GSM of the 17th Black Bears now, having taken over that role as Richard and Laura stepped up to help the bigger scouting community. Melanie has been roped into working as QM, Grub Master, BTC overseer, and a wide variety of random jobs for the South Region.
If you have something to add to this website, you can contact her at blackbears17th@gmail.com.
If you would like to step up and join the South Region team, let us know! Many hands make light work!